Service Opportunities
Below are some recent and upcoming service projects that
The Imagine Society members are participating in!
---
You Are Invited to MV4NY's Book Sorting Event for Project Cicero
This community service initiative is for children (8th grade & above) and adults.
Date: March 7th, 2020. (Saturday)
Location:
Gold Ballroom,
Hotel Pennsylvania
401 7th Ave, NY, NY 10001
Project Cicero is an annual event where 1200 NYC teachers at public schools in need, personally select as many books as they can to transport to their school and classroom libraries. Since 2001, 3,750,000 new and gently used books have been given to more than 30,000 NYC classrooms, reaching over 1,000,000 students! MV4NY Volunteers will help with organizing the books donated to Project Cicero according to subject, age and genre. Teachers will select from these sorted books.
To register for this community service initiative, please use the link given below for your preferred time slot:
For 11:30am- 12:30pm Click Here
Kindly RSVP by 22nd of February.
We will provide a community service letter upon request.
Muslim Volunteers for New York, Inc is looking forward to serving the community with you!
Best,
MV4NY Team
Muslim Volunteers for New York, Inc
Registered 501(c)(3) non-profit
---
Also on March 7th: The Image-Inn
(See Next Event)
The Imagine Society in association with The Ascension Shelter, Olivieri and CAMBA is hosting our next event, The Imag-INN.
Please contact outreach@theimaginesociety.org for more details and to get involved.
---
The Bowery Mission
March 1st and March 29th
We are gathering a group to cook and serve a meal 5:30pm to 8:30pm!
Contact us at outreach@theimaginesociety.org to be part of this fun and meaningful service. Spots are limited.
The Bowery Mission offers ongoing service opportunities to serve meals (breakfast, lunch and dinner) at three of their locations, two in Manhattan. It is a wonderful, meaningful and fun experience for your group.
Age Group: Ages 14-18 can participate with a waiver signed by a guardian and a chaperone on site. Your own group can register using the link below.
Registration and Additional Information
---
Ascension Shelter Recap
The Imagine Club, The Warriors and the Spirit Squad teamed up on February 1, 2020 to plan, cook, serve, clean up and engage in conversation with the underserved at the Ascension Shelter in association with CAMBA.
See us in action here:

Catholic New York:
Spirit Squad Youth Group Runs Pantry at Manhattan Parish
---
MV4NY Sweet Dreams Pajama & Book Drive from February 7th to 16th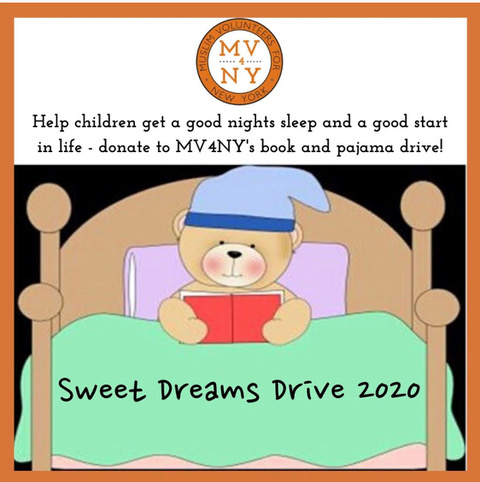 Dear friends,
Muslim Volunteers for New York, Inc. is conducting its nationwide MV4NY Sweet Dreams Pajama & Book Drive from February 7th to 16th, to benefit underserved and at risk babies & children (0-16 years) served by two outstanding organizations; "Pajama Program" and "Room to Grow".
The simple comfort that a pair of new pajamas provide and the escape that a lovely book offers is priceless to these children who are steeped in poverty and abandonment.
Please join us in this wonderful opportunity to give back! You can contribute to this drive using the link below.
Thank you in advance for your participation.
Best regards,
The MV4NY Team
---
A National Act of Kindness
Dear Friends,
Muslim Volunteers for New York Inc. (MV4NY) has commenced its 4th annual 'Valentine's Day card-making initiative' for homebound and often isolated seniors of New York City. These cards will be delivered to them, along with a nourishing meal, on or around Valentine's Day by City Meals on Wheels. Would your family like to join us in this creative and meaningful activity from the comfort of your home?
Details are as follows:
Dates:
January 20 – Friday February 2.
Project:
You can decorate and design brightly colored handmade Valentine's Day cards at home and mail them to us no later than February 2.
(Card templates and printing guidelines are provided below).
Guidelines for Valentine's Day Cards for the Homebound Elderly
Use the provided template and do not alter the size of the template.
The enclosed template is for 2 cards.  Please cut the cards before decorating.  We recommend printing the template on card-stock or reinforcing the card with construction paper.
Avoid dark backgrounds and religious symbols.
No Glitter!
Volunteers should write a message and sign the cards with their names but must not give out their address.
Address:
Muslim Volunteers for New York, Inc.
330 East, 38th Street,
Apt. 34N,
New York, NY 10016
This simple act of kindness and compassion will brighten the day for many lonely homebound seniors, so please join us!
Thank you.
Warm regards,
The MV4NY Team
Muslim Volunteers for New York, Inc.
Registered 501(c)(3) non-profit
---
Help Out at the Ascension Shelter!

Project:  Help Out at the Ascension Shelter!
https://ascensionchurchnyc.org/
The shelter is located in the cafeteria of Ascension School
Address: 220 West 108th Street, between Amsterdam and Broadway. If you take the train you would need the #1 to 110th Street then walk south 2 blocks.
Dates: February 1st
3:00pm to 6:00
Gather and plan the menu
Do the shopping
Prepare the food
Cook the meal
Set up the tables and the cots for the guests
6:00pm to 9:00pm
Monitor the front door to greet the guests
Finish preparing the meal
Set the tables, get coffee going, etc.
Serve the meal when the guests come, and eat with them (sharing company and conversation)
Make sure they have everything they need (linens etc.) at their beds
Serve dessert
Clean up/wash dishes, sweep floor, etc.
If we have an overflow of kids they can hang in the gym, play basketball, etc.
THIS IS A FUN AND MEANINGFUL OPPORTUNITY! Please Join Us.
To Sign up email us Outreach@theimaginesociety.org